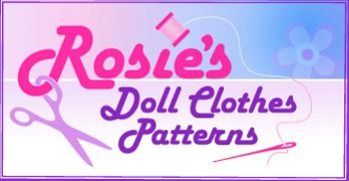 A sewing project from last year...Yogi, Cindy, and Boo Boo Bear!
My husband and I got married two weeks after I graduated from college and my sweet man bought me a sewing machine, something I'd wanted for a while but didn't have any clue how to use. This was obvious from the fact that it sat in a closet for several years. I finally pulled it out to give a go at sewing a plain straight curtain. My husband (who took a home economics class in junior high in the hopes of meeting girls) taught me how to use it. I got frustrated, made a curvy curtain, and into the closet it went again for a few more years. I've had a good friend helping me gain courage and I've managed a few projects for my girls. When Rose came to me during my last project and asked me to teach her to sew I panicked! I barely know what I'm doing and don't have a clue how to teach an eight-year-old!
Enter
Rosie's Doll Clothes Patterns
! This simple to use site was just the thing I was looking for. The
How to Make Doll Clothes Video Course
($47.51 for a 1 year membership) is excellent for beginners as it teaches the most basic aspects of sewing and is easy to follow. Since the videos are online I could access them from my computer or iPad. I found it easiest to use the computer because of the larger screen. Patterns are available for 18 inch (American Girl Doll size) and 18 1/2 inch (Cabbage Patch Size) for a variety of seasons and uses. They are all very simple patterns, perfect for those just learning.
finally
be learning how to sew.
I appreciated that even the most basic steps, such as pattern cutting, were fully explained in a way Rose could understand. I also appreciated that not once has Rose had to ask me what something. It isn't that I mind answering her questions, I just know I probably wouldn't know the answer!
Whether you are just beginning to sew yourself or have a child interested in learning, this is an excellent way to learn! No confusion, no pressure, and no hassle! My favorite quote was when Rosie was explaining the various tools used for sewing. When she got to the seam ripper she said no matter how experienced you are at sewing everyone makes mistakes and needs the seam ripper to help fix them. It meant to much for me to hear that because my daughter with perfectionist tendencies gets very frustrated when she gets something wrong. This one matter of fact statement put her at ease for the rest of her time with Rosie.
See what my Crewmates had to say by clicking below!