Bible is one of the subjects I never have to struggle teaching is Bible. My husband and I are both passionate about the Word of God and even more passionate about instilling a love for His Word in our girls. While I was resting after their birth I have vivid memories of my husband singing
Jesus Loves Me
and telling them the plan of salvation, just how much God loved them. We felt as if their baby dedications were more for us, a parent dedication if you will, as we committed before our congregation to train up our children in the ways of the Lord. It is with this mindset we entered into homeschooling, knowing our curriculum would always start with solid teachings in the foundations of Scripture.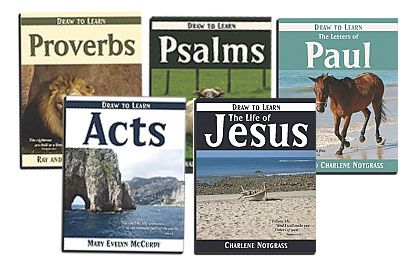 The opening paragraph on the the
Notgrass Company
website talks about creating materials with a Christian worldview to teach the hearts, souls, and minds of our children. That one sentence sold me on wanting to review material from this family-run company. We were blessed to review their
Draw to Learn
Bible study material. This product is designed for use with children of all ages and encourages them to illustrate what they have learned from the Scripture they have studied. Available in both print ($14.95) and digital ($9.95) there are multiple options for your needs.
We used the spiral bound book on Proverbs. It seems quite simple at first glance with Scripture references at the top, empty space for drawing, and directions at the bottom. Although as simple as it may seem, it has profoundly deepened my oldest daughter's thought process when it comes to Scripture. We have been using this in addition to our regular Bible material, and she doesn't mind the extra study one bit! She is the one of my girls who loves all things artistic so this has been an excellent for her.
One aspect I really liked about this Bible study is it is very personal to her. She reads the passage and then illustrates what she has gleaned after reading the short instructions at the bottom of the page. It has been amazingly insightful for me to see what impacts her. I suppose up until this curriculum I felt the need to lead her to understanding. This may have been true to a certain extent up to this point, but at eight years old she is ready for me to let go of her hand and allow her to discover God's Word on her own. This has been a beautiful way to start her on that journey.
There are no right and wrong answers for this. There are suggestions at the bottom of each page, but they are suggestions only. My daughter has taken on this curriculum with great joy. She's used to me giving her new things to try out and she enjoys the change in routine from time-to-time, but she rarely asks to continue with a curriculum in particular. She generally loves school and like her sisters is incredibly easy to teach. This time, she asked specifically, "I get to keep doing this, don't I? I really like it!" So be assured, this will continue to be a part of our weekly learning.
Click below to read more reviews of Notgrass products from my Crewmates!