Ever since I was in college I decided I was going to teach Greek and Latin to my students. This was when I discovered the connection to Greek and Latin and our own vocabulary. When I taught middle school English full-time they had roots each week and my current junior high homeschool English students I teach once a week also have roots to study and learn weekly. While I saw this as highly valuable for older students as they looked toward college, it honestly didn't cross my mind to teach them to my own young daughters as part of our homeschool curriculum.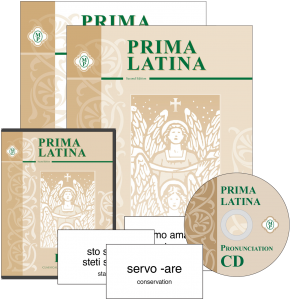 When the
Prima Latin
pakage from
Memoria Press
arrived my girls were jumping up and down! I told them we would be learning Latin and they couldn't wait to start. This particular package is meant to be used with children in grades 2-4. The set costs $90.90 and includes a teacher's guide, student guide, DVDs, CDs and flash cards. These items can also be purchased individually.
I initially starts this with Rose who is finishing up 2nd grade. She has started to learn small amounts of Greek from her grandfather and was very excited to embark on this new adventure. I like the layout of the student books as they are easy to follow and very sequential. The first lesson focuses on learning the Latin alphabet which was a bit of a challenge for the vowels.
Beth saw us doing our Latin lessons and she asked if she could try. We were only one lesson in at this point so I decided to give it a try on her own. She has just finished up Kindergarten and I wasn't sure if she was ready....Boy did she give me a happy surprise! She quickly engaged with the text and seemed to really enjoy this lesson. The only part I modified a bit was to have her to more of the practice work in the book orally rather than written as her sister had done.
Rose and Beth completed the first lesson on their own. After that first lesson the girls started working together on their Latin. This was a fun and unique experience because I typically teach the girls individually on their own levels for different subjects. They enjoyed doing this work together.
I would sit on the couch and teach the girls in the living room. They found some Latin words to be quite funny and would get a giggle out of them! We listened to the CD or DVD as the lessons indicated.
The only portion of this program I did not care for as much was the teacher's guide. It was basically the student guide with answers written in. With subjects I'm not as familiar with, like Latin, I prefer a more scripted book for the teacher's guide.
Don't forget to check out more reviews from my Crewmates below!